MEN"S BARBER, HAIRCUTTING AND STYLING SERVICES ARE AVAILABLE.


Weekly or Monthly newsletters are very important to Salon 6315 in home salon, because reading them will keep you IN THE KNOW.

Check back with this page, from time to time and find out and learn about the latest trends and current releases happening in the beauty industry!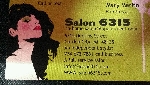 UP STYLES are back on trend again. Think Audrey Hepburn, B-52's, Etc. Hair worn up is what they are showing currently on runways for fall Spring trends. Think old glam HollyWood at it's best.